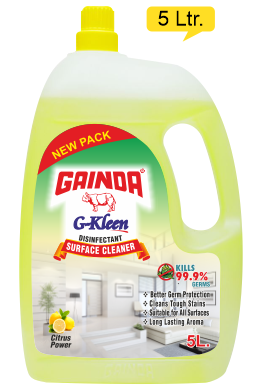 GAINDA G-KLEEN is a very effective disinfectant surface cleaner. Use GAINDA G-KLEEN on floor, bathroom and kitchen surfaces to remove dirt, tough stains and make your home healthier as it kills 99.9% of germs. This disinfectant cleaner can be used directly on stains for spot cleaning, or diluted in water for use on hard surfaces like bath tubs, toilets, wash-basins, showers, kitchen sinks and counter tops etc. G-KLEEN is safe on all hard surfaces like Marble, Granite, Ceramic tiles, Mosaic etc.
Features :


Kills 99.9% of viruses and bacteria


Cuts through tough grease and grime


Provides long lasting aroma


Can be used on hard, non-porous surfaces in the kitchen, bathroom and other areas of the home


Citrus power
Pack Sizes:


500mL 20 bottles in 1 corrugated box.


975mL 16 bottles in 1 corrugated box.


2 Litre 8 Pcs. in 1 corrugated box.


5 Litre 4 Pcs. in 1 corrugated box.
Physical Properties :


Physical Form: Liquid


Colour: Light Yellow


Odour: Perfumed


Specific Gravity: 1.02-1.03


Type: Normal


Stability: Stable under normal condition